Pran Nevile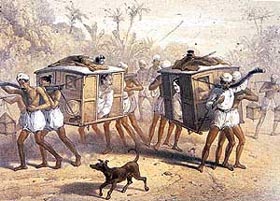 The newlyweds going on a honeymoon— G.F. Atkinson, C 1850.
THE imperial enterprise was a masculine affair. Until the late 18th century, very few British women ventured to come to India. The original charters of the East India Company also forbade women on its trading posts. To rephrase a hoary catchphrase, it may be said that the 'Empire was not acquired in a fit of absence of mind so much as in a fit of absence of wives'. The company once copied the Portuguese practice and played a matchmaker by shipping batches of young women for the marriage mart in India. But since the demand for wives was far in excess of supply, scandals followed as some of them took to sex trade as a more lucrative and pleasant vocation than marriage. For this outrageous behaviour, they were warned to mind their morals otherwise they were to be fed on bread and water and sent back home. The experiment of importing women was thus a failure and the East India Company encouraged its servants to find native women for themselves. Most of them, therefore, set up zenanas with their Indian bibis either as mistresses or unofficial wives.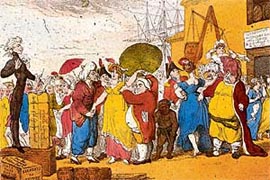 Sale of English beauties in the East Indies— T. Rowlandson, C. 1800.
As time passed and the British settlers acquired wealth and power, memsahibs began arriving on the scene in search of rich husbands. Until the early 19th century, it was a male-dominated society where ladies played only a subsidiary role. These memsahibs did not share the scruples of later generations and showed due respect for the native lifestyle, customes etc. They had no objection to the hookah and occasionally smoked it themselves. They freely attended and enjoyed the nautch parties and even adopted the fashion of the turban which they carried to London. Their number was so small that that every spinster and widow was snapped up at once, irrespective of her physical charms. Around 1800, there were only 250 European women in Bengal and its dependencies as against 4000 men. The cost of landing a European wife at Calcutta worked out to Rs 5000, far beyond the means of ordinary company officials. On the other hand, according to Capt. Williamson's Guide book published in 1810, the expenses on an Indian mistress amounted to Rs 40, per month.


After the introduction of the overland route via Egypt and an increased frequency of sailings by the company's ships, more British women began arriving to shop in the marriage bazaar of India. In that era of large families in England, the only prospect for girls without dowry or physical beauty was spinsterhood. The men, who had amassed fortunes in India by means fair or foul called 'Nabobs were much sought after by the parents and guardians of marriageable daughters. Even as early as the time of Clive, girls just out from home had been known as 'the newly arrived angels' and there was great competition to carry them ashore at Madras or to escort them from their carriages to the church at Calcutta.


Rival candidates at Calcutta
—James Moffat C. 1800.

As the 19th century rolled on, the English ships brought regular cargoes of venturesome beauties bent on matrimony leading to a social phenomenon known as the 'Fishing Fleet'. With this influx of women, Edinburgh came to be called the "flesh market for the Indian marriage mart". London sent out supplies too. It was an age of quick marriages. The arrival of a cargo of young damsels was one of the exciting events for the waiting bachelors biding their time for a wife. On such occasions, the captains of the ship and other well-known ladies of the settlement would organise great parties and the candidates for 'wifehood' 'sat up', as it was called, for three or four nights in succession while the eligible bachelors, young and old, rushed there to try their luck. The church on Sundays was also the recognised marriage bazaar. What was left of the Fishing Fleet' sailed on to the mofussil to scoop up husbands from the bunch of unmarried officials, soldiers, planters and businessmen. With such a multitude of wife seekers, the dame had to be very ugly or over-ambitious not to make her catch and join the group of 'returned empties', a term used for those returning to England without husbands.

The poet Thomas Hood, was so struck by this traffic that he satirises the ambitious husband hunter:

By pa and ma I'm daily told

To marry now's my time,

For though I'm very far from old,,

I'm rather in my prime.

They say while we have any sun

We ought to make our hay-

And India has so hot a one

I'm going to Bombay…




A Swarm of admirers hover around Miss C's carriage at the bandstand—G.F. Atkinson, C. 1850.

Victor Jacquemont, a French botanist visiting India at the time was not much impressed by the English ladies he met at Calcutta and other places. He wrote (1830): "Portionless girls who have not succeeded in getting married in England arrive here in cargoes for sale on honourable terms, I mean to young civil and military officers". Another Frenchman, who served as an officer in the East India Company army, Capt Edouard Warren, considered the parents' calculations of costs, risks and rewards rather sordid. He describes how the girls were advised by their aunts not to dance with anyone below the rank of a first class civilian or military officer who could provide three essential things for conjugal bliss in India: a massive silver teapot, a palanquin and a set of bearers to use by day, and a carriage in which to drive in the evening

In this situation many of the girls became accomplished flirts. As long as the girl made a suitable catch in the end, flirting was accepted as a pleasant activity except when the girl overdid it. The young civilian was considered a prime catch, £ 300 a year dead or alive; the East India Company provided an allowance of -£ 300 a year on marriage to a civilian and on his death a pension for the same amount was given to the widow. A satirical poem thus described some of the ladies of the 'fishing fleet':

pale faded stuffs by time grown faint

will brighten up through art; A Britain gives their faces paint

For sale at India's mart.

The Indian marriage market excited the imagination and ambition of generations of British girls. It was not unusual for a young girl to marry someone twice or even thrice her age. "India is a paradise of middle-aged gentlemen' wrote a lady from Madras in 1837; this was because young men in India 'are thought nothing of' being posted in remote areas to make or mar their fortunes; but 'at forty' when they are "high in the service", rather yellow, and somewhat grey, they begin to be taken notice of, and called "young men", At times young wives with old husbands got involved in scandalous affairs with younger men and even eloped with them. Here is another verse from the 'Lays of Ind'.

Colonel White was over forty;

Jane, his bride was seventeen;

She was also very naughty

For she loved a Captain Green"!

The demand for wives was so great that ladies who lost their husbands had no difficulty in replacing them. A widow was frequently proposed to on the steps of the church after the burial of her husband. These speedy marriages were far from uncommon and there were even cases where a wife would engage herself to a suitor during her husband's illness. One of the most famous much-married woman was Begum Johnson, who got married at the age of 12 and took her fifth husband when she was nineteen. She died in 1812 at the age of 87 and was given a state funeral.

As time passed, more and more memsahibs appeared on the scene and emerged as supporting stars in the great imperial drama. They inculcated a feeling of racial superiority and brought a little England in the midst of India.