By Pran Nevile
HE British who came to India as traders, eventually emerged as a dominant political power by the end of 18th century. The prospect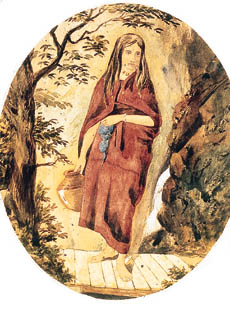 of fame and fortune also lured the British artists who began arriving here from the 1760s onwards. Until then, there was no visual record of the Indian panorama based on first-hand observations. While artists applied their talents to landscape painting, the portraits of the elite or pictures of historical events of imperial interest, there were some with a different bent of mind. They were perceptive and sincerely responsive to the sights and sounds and the colour and shapes of their environment. They were struck by the exotic people of India, particularly the native women whom they depicted with utmost fidelity and dazzling detail.
There was much curiosity about the Indian women of aristocracy who were inaccessible as they were secluded in the Zenana. Other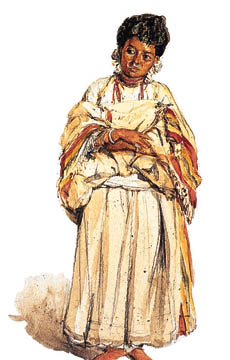 women who came into contact with the English sahibs and who had no inhibitions about modelling for the male artists were either the bibis,unofficial wives of British officials and soldiers, or the courtesans and nautch girls. It was in the countryside that they came across women both young and old, moving about freely in the dusty village lanes, sitting and gossiping, working in the fields, carrying waterpots on their heads and pursuing daily chores in front of their huts. Fairs and festivals provided another opportunity to observe them in their colourful costumes, moving around in groups in a carefree manner and jovial mood.
Among the notable relics of the Raj are the hill-stations opened up by the British mostly during the 19th century. Of these Shimla-'Kipling's great and bubbling summer capital of India' — perched on a steep ridge, 7000 ft above sea-level, held pride of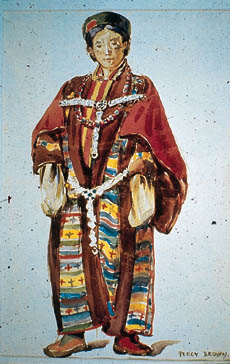 place. Lord Amherst was the first Governor-General who started the custom of camping at Shimla. Its delightful climate and scenic beauty of the surrounding hills soon began to attract hordes of visitors, including British artists, both professional and amateur. They were captivated not only by the scenery but also by the local people in their array of costumes and their mode of life which varied from those in the plains. They saw them engaged in unusual occupations and adopting novel methods of farming on the terraced slopes of the hills.
The women in the Shimla hills have been described in accounts of those times as tall and straight with a smooth skin and not shy and withdrawn like their sisters in the plains. Free from guile, the mountain damsels were quite talkative with a good sense of humour.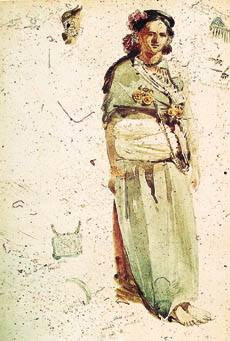 Captain Skinner, in his delightful account, speaks about his encounter with some women near a spring in the hills where they had gathered to fetch water in their pitchers. He succeeded in striking up a conversation with them and writes:
"I asked a pretty woman, of about eighteen years of age, who had come out to present us with a bowl of raspberries, how many husbands she had. 'Only four' was the reply. 'And all alive?' "Why not?'
"She questioned me in return, and asked where my country was. When I told her it was several months' journey from here, there was a general murmur of incredulity;"it is not possible' they all answered. 'And where is your wife?' was the next inquiry. On my declaring I had none, universal cry of 'Bah, bah! Djoot, djoot' — showed how little they believed me"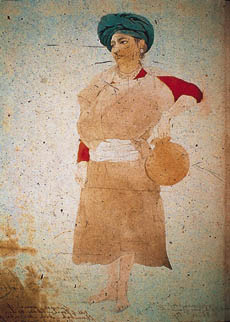 "Where such beings as bachelors and spinsters after fourteen or fifteen years of age are unknown, no wonder they should receive with doubt, such a declaration. I found it impossible to convince them of my veracity, and I fear I lost a little in the estimation of my mountain friends by asserting so palpable an absurdity as any man being without a wife appears to them".
He also heard a song by the hill women working on the farms. It was` about what they thought of the foreign travellers. The feats of the White men were apparently an inexhaustible subject. An extract from the free rendering of the song as given by Skinner is as follows.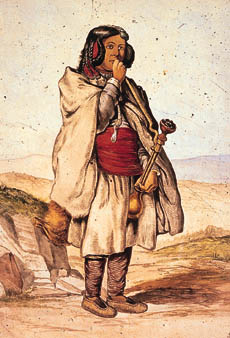 See, the tents are all spread — they have kindled the fires, And the travellers will rest in the valley to-day We will labour no more; all the white man desires We will hasten to offer, and court him to say.
Among the British artists who were drawn to the scenic beauty of the hills and the local people, the noteworthy were A.F.PHarcourt, William Carpenter and William Simpson. Harcourt was posted as a civil officer in Punjab from 1862 to 1889. He liked the Punjab hills, especially Kulu, where he was posted in 1889. He was fascinated by the scenic splendours of the region and engaged himself in painting land-scapes and the local people. Simpson, an eminent professional artist, was adventurous enough to join an expedition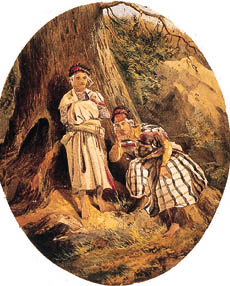 led by Capt. Evans to Chini and he has left behind a fascinating collection of drawings of the people and scenic spots he visited during his march.
William Carpenter was another professional artist to capture the scenic splendours of the Himalayas, including Kashmir. Their enchanting portrayal of women of the Punjab hills, now Himachal Pradesh, and also the contemporary descriptive accounts about their alluring appearance and winsome manners are enough to justify why sahibs were particularly struck by the grace and charm of these women. No wonder, some of them took these 'daughters of nature' as their partners and chose to settle down with them in the exhillarating environment of the hills.