Hindi cinema's
First superstar

With his stunning portrayal of Devdas, Saigal brought the author Saratchandra's desperate character to life. His brooding looks, that drooping lock of hair and his mournful singing Dukh ke ab din bitat nahin made him a cult figure and Saigal became the first superstar of Indian cinema, writes Pran Nevile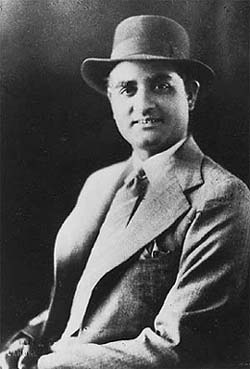 MORE than half a century ago K.L. Saigal—the greatest musical genius of the 20th century—passed away in the prime of his life but it is a pity that we have not set up any befitting memorial in his honour. The first superstar of Indian cinema, who brought music to the masses and became a legend in his own lifetime, deserves to be honoured at the national level. Saigal's god-gifted voice and his haunting melodies still continue to delight millions of fans the world over and have become a part of our heritage. It is disappointing that no auditorium, institution, street even has been named after Saigal to keep his memory alive. The coming year, 2004, will mark Saigal's birth centenary. This should be an opportunity occasion to repay our long-standing debt to K.L. Saigal, the true Tansen of our age. Saigal was deeply attached to Jalandhar, his beloved hometown. Even when his health was declining and he was conscious of his approaching end, he came all the way from Bombay to spend his last days there before his demise on January 18, 1947.
Right from his childhood, Saigal had shown an amazing understanding of music. As a school boy, he used to attend kirtans in the temples and take part in the Ram Lila. He often visited the dera of a Muslim dervish and Sufi Salamat Yusuf in Jammu, whose life and spiritual leanings he was influenced by. Music was a daily routine at this dera and Saigal is said to have practised his singing there along with other musicians and devotees. Apart from folk and devotional music, the enjoyment of regular classical and other popular music in those days, was for those privileged few who either had access to the private concerts of the princes. Saigal would sneak near the house of a professional singing girl in his neighbourhood and later emulate her singing. Some fans find a flavour of kotha style in Saigal's rendering of ghazals. Saigal gave a totally new dimension to the music of his time when he appeared on the scene in 1930s. Saigal's non-film music — ghazals, geets and bhajans made him popular with the music lovers. For him, singing was as natural as breathing, beyond the usual limit of skill and style. Without any formal training in the art of singing nor a torch-bearer of any gharana, Saigal was an acknowledged master of his art in every element that makes music mighty.