Kanan Bala was among the first superstars of Indian cinema. Her melodious voice and exceptional acting abilities mesmerised audiences. Pran Nevile pays a tribute to the actress whose death anniversary falls on July 17.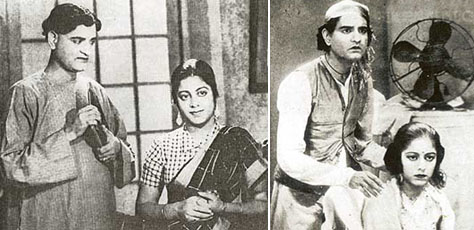 Kanan Bala with K.L. Saigal in and Lagan (right) Street Singer
Kanan Bala began her career as a child artiste in Madan Theatres of Calcutta during the silent era. Her name may not mean anything to the present generation but in her times she was not only a melody queen but also a glamorous superstar of Indian cinema. She was the only artiste of the silent days to make a smooth transition to the talkies. It was her superb performance in Radha Film Company's Bengali production Manmayee Girls School that made Kanan famous. She was acclaimed by the media as the most pretty and attractive singing star of the day. So much so, that even the renowned P.C. Barua offered her the role of Paro in his all-time classic Devdas.. Kanan could not accept the offer owing to her contractual obligations with Radha Films but she harboured the regret at not being a part of the film throughout her professional career.
An amateur singer when she joined cinema, Kanan received training in classical music from Allah Rakha, an eminent ustad from Lucknow. This qualified her to master light classical or semi-classical, including the ghazal form of singing. She learnt Rabindra Sangeet from Anadi Dastidar, Kirtan from Dhirendra Mitra and Nazrul Geeti from Kazi Nazrul Islam himself. But above all, her real teacher was the New Theatres' R.C. Boral, the father of Indian film music.
Kanan Bala joined the elite New Theatres, Calcutta, in 1936 during its golden era. Debaki Bose gave her a prominent role in his masterpiece Vidyapati (1937). She dominated the film with her superb performance as Anuradha, a character created by Nazrul Islam. Her enchanting songs like More angana mein aaye aali along with lovely duets with K.C. Dey made her the leading singer-star of New Theatres. She followed up the astounding success of Vidyapati as a heroine opposite Barua in his hit Mukti. Kanan stunned the viewers with her charming performance as a sophisticated high society emancipated woman. Once again the music scored by Boral and the hit songs by Kanan added to her fame and popularity.
The culmination of Kanan's career, however, was her appearance as K.L. Saigal's heroine in the New Theatres' greatest musical hit Street Singer (1938). Directed by Phani Majumdar with music again by Boral, the film was a runaway success all over India. It created a sensation in the film industry. Kanan Bala emerged as the melody queen and reached the zenith of her fame and glory. Kanan was now a celebrity and it was said that she carried honey in her throat. Saigal and Kanan had a deep and genuine admiration for each other's talents. Their enchanting duets, Lachhmi moorat daras dikha, Sanwarea prem ki bansi bajaye and Sakundil ka mayssar gulo-samar mein mahin, still continue to haunt music lovers.
Kanan appeared in three other films Sapera and Jawani ki Reet in 1939 and Harjeet in 1940 with stars like Pahari Sanyal, Prithviraj, Nawab and Najmul Hussain. All of them were moderately successful and none was a box-office hit. This temporary set-back in Kanan's career was more than made up by the great success of Lagan where she again teamed up with Saigal and their melodious songs —four by Kanan and five by Saigal's proved to be popular hits.
Soon after this Saigal left for Bombay and Kanan also left the New Theatres. Later, she joined Barua's M.P. Productions and appeared with him in the famous hit Jawab (1942). This film is remembered even today for its captivating numbers Ai chand chhup na jana and Ze dunia toofan mail. Its music was scored by Kamal Das Gupta, himself a reputed singer. Kanan Bala's Hindi film career virtually ended with Jawab since her subsequent films like Hospital (1943), Chander Shekhar (1947) and Faisla (1947) did not attract the audience.
Kanan Bala's personal life was quite eventful. From an unlettered poor slum girl she rose to stardom and became a celebrity. She not only educated herself by engaging teachers but also learnt dancing, swimming, driving and even became an expert rider. She had a good knowledge of western classical music. She came to be highly respected in society for her admirable social work and philanthropy.
She married Haridas Bhattacharya, ADC to the Bengal Governor, in 1949 and they set up Shrimati Productions with Bhattacharya as director. Kanan Bala, now addressed as Kanan Debi, produced several Bengali films until her retirement in 1966. She remained active in social life and was generous in helping old artistes in distress and poverty. Having received Padma Shri in 1968, she was awarded the prestigious Dadasaheb Phalke Award, the highest honour to a film personality in 1976. She passed away in July 1992 after having lived a full life both as an artiste as well as a woman.